The Great UX Debate
Tired and blurry-eyed, the Great UX Debate started sharp at 9:45 a.m. with our moderator, Robb Stevenson offering bottles of hangover pills in order to wake us up. This debate wasn't as lively as the last 2 I have attended, but there were some really great quotes from our panel.
The UX Debate asked these questions:
As designers, are we responsible for the effects we have on people's behaviors from the things we create?

Angel Anderson: "Yes! Of course we are responsible."

Mikkel Michelsen: "Our liability ends somewhere"

Can we really create "connected experiences" across so many devices & networks or is it just a fool's errand?

Teresa Brazen: "I fucking hope so. I'm sick of staring at lots of screens."

Angel Anderson: "You need to think about these experiences to move your career forward. If you don't, I'm going to eat your lunch."

Which do you believe most?
1. Stakeholders need to slow down
2. UXers needs to speed up.

Teresa Brazen: "Mental Masturbation" 
Mikkel Michelsen: "This is a trick question"
Angel Anderson: "You need to flow through your design to become a Jedi Master."
The Dream of the 90s is Alive – Jason Brush
Jason gave a great historical overview looking into the past. He asks, "Why look back?" and says, "It's important to remember. We take time looking forward, but we need to take time to look into the past. We shouldn't take the present granted." He encouraged us to remember the excitement we had when we discovered interactive technology and the opportunities it presented.
Measuring User Delight Using the Kano Methodology – Jan Moorman
Jan walked us through her discovery of the Kano methodology and how she incorporated into her design research.
Within the Kano model, there are 5 interactions:
Attractive
One dimensional
Must-be
Indifferent
Reverse
Jan did a wonderful job explaining each interaction and how she applied it to several projects she worked on. In addition, she shared her thoughts on how many users to ask during your research. She recommends 24 is a good number.
Jan recommended this slideshare: http://www.slideshare.net/LawrencePhillips/kano-model-rev-1
ReDux Live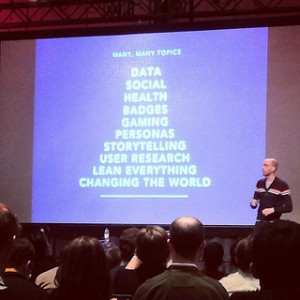 All rights reserved by seanfiliatrault1
New to Interaction13 conference this year, 3 members of the media (Cliff Kuang, Jeroen van Geel, Lin Yee Yuan) gave an overview of what they heard all week. There was an open discussion with the audience on what they experienced at the conference.
My IxD Experience
This was my 3rd Interaction Design conference. Below are pictures that represent why I will continue to come back to future IxD conferences.
IT'S YOU! See you in Amsterdam for IxD14!