We hope you're enjoying your stay in wonderful Toronto!
While you're here, we hope you take in some of the great things the city has to offer. In the mood for great coffee? Check out Sense Appeal on 96 Spadina or Dark Horse Espresso Bar. Look for the wonderful food map provided by Jauntful in your welcome kit, & if you have access to wifi, look through this google map curated by Toronto locals on where to grab a good bite to eat.
Opening Keynote
The day kicked off with an inspirational talk by Ravi Sawhney entitled: "Our Power to Empower: the Satisfaction of Designing for Social Impact".
A memorable opening quote he presented is that Design isn't "about how you feel about the design, it's about how it makes you feel about yourself [and what you do]". Ravi's talk gave us a good reminder of the effect that we as designers have on the world around us. The rapid adoption of mobile technology around the world means that Interaction Design at least has a chance to impact the lives of billions of people in the coming decade. How are we as designers making a change in peoples lives through those billions of interactions? A fairly thought provoking start to the conference.
"We're doing something far greater than our work…We need more John Lennons in design." – Ravi Sawhney
You can find more information on Ravi's work via twitter: @rkdesign or visit rkdesign.com.
Microinteractions
My favourite talk of the day (that's Favourite with a "u" in the spirit of everything Canadian), was Dan Saffer's Microinteractions: Designing with Feelings.
Dan gave a great presentation filled with insights on microinteractions that are oft overlooked when we're busy dealing with the big picture. Some memorable quotes from Dan's presentation: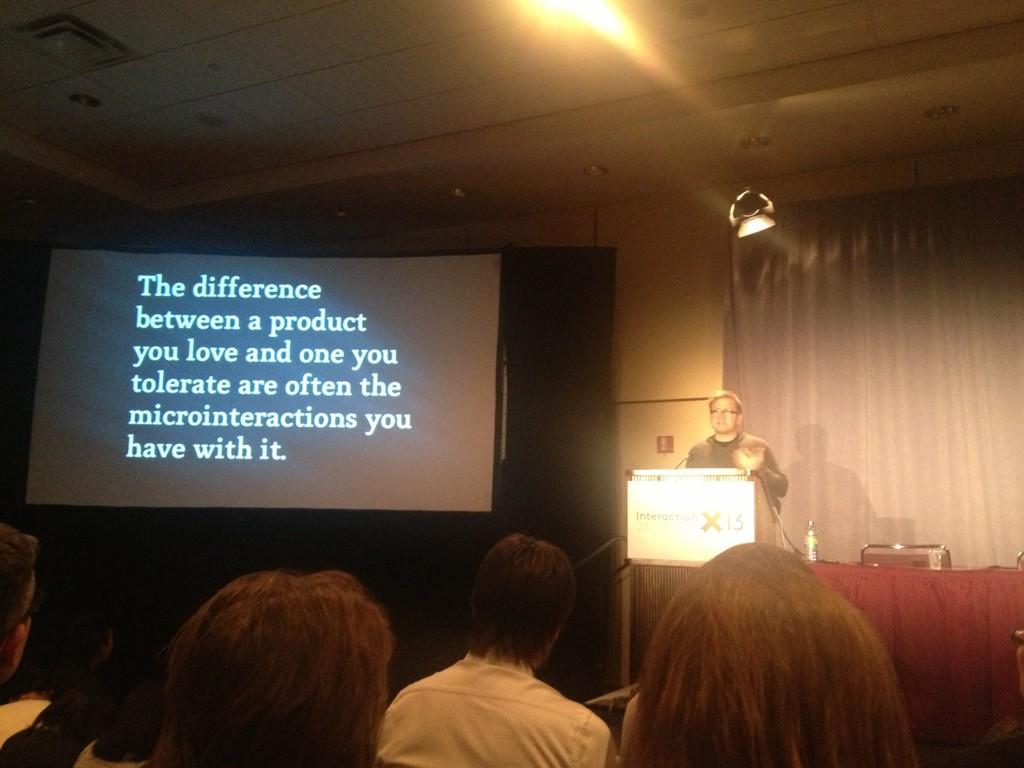 "If you care about experiences, you should care about micro interactions…they all add up to create the overall experience."

"If a micro interaction is poor, your awesome features will be surrounded by frustrations."
Dan reminds us that these small moments make a difference, and in designing products and services, we shouldn't forget to pay attention to the nuances that make our user's experiences memorable.
I'm looking forward to checking out Dan's upcoming book on Microinteractions, you can read chapter 1 here.
See what's happening!
Check out this cool sketchnote from @bysusanlin doing it right!
Eventifier also has a wonderful aggregation of photo's and videos being posted by attendees, check it out: http://eventifier.co/event/ixd13#
Follow the conference on twitter: @ixdconf and stay tuned to the blog for a daily recap of happenings.
Opening Party @ The Hoxton
The opening party featured a live band,Cuff the Duke, who rocked the house. A very cool sound set the vibe for the night. Check out these vine clips of the happenings (funky dancing inclusive):
Last thoughts
So IxDA'ers, a final thought from your dear author of the day:
While you're taking in today's keynotes and talks, don't forget the microinteractions around you, the impact you can have on the your fellow attendees, and that which they can have on you. Talk, listen, interact and invite those around you into your conversations. This event is what you make it, so try to make every human interaction count.
Enjoy the week!