Hyoseon Sunny Kim's music started Day 3 on the right note and the day just kept getting better from there!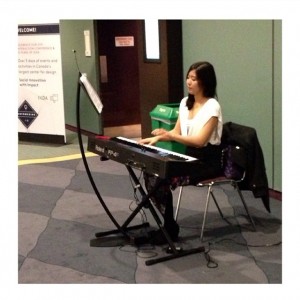 Opening remarks began with the IxDA 2013 Student Design Challenge winner, Bethany Stolle and the creative and impressive student work continued with the OCAD U Showcase: Ecological Capital.
Paul Adams' morning keynote Discussed How to Design Social Experiences, how it differs from classic user-centred design methods, and explain why he thinks UX professionals will need to change how they work to be successful in the future. This talk fueled many great sketchnotes you can find floating around Twitter, including some of my personal favorites are by Jason Alderman(@justsomeguy). I can't wait to see what other IxD13 talk sketchnotes emerge on the web! Please share your sketchnotes (in addition to your photos) with us on our twitter (@ixdaconf), our Flickr stream (fickr.com/groups/interaction13)with the tag photos #ixd13,or our blog (interaction.ixda.org/blog/we-want-your-photos/).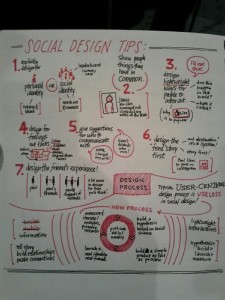 The sketchnotes continued throughout the day in great talks with my personal favorites: Making Meaning in an Internet of Things by Cara Diana who covered amazing networked objects of the not-so-distant future, Intuitive Interfacing with Ken Reddick Rob McMahon Dave Holland who shared how dinosaurs come alive at the Royal Ontario Museum, Realism in Design with Adam Little who explains how to keep it real, and Beautiful Failures with Susan Dybbs who recommends sharing
failures as way to encourage a culture of risks-takers. OCAD U Social Body Lab graciously opened their doors to show us some of their project you may have seen in Kate Hartman's talk. If you were not able to make it, you can learn more about their projects here : http://research.ocadu.ca/socialbody/home